Breeze through your Emails, Tasks, Calendars and Social Feeds with our intuitive collaborative business mailbox on-the-go.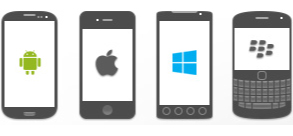 Configure your Symbian, iOS, Android or Windows Phone or Tablet to access the interfaces, designed for maximum efficiency.
Powered by Open Xchange, it is all backed-up in our state-of-the-art infrastructure.
Frequently Asked Questions
Q. How will purchasing Business Email benefit me?
As opposed to free email solutions, you can give your business a more professional image with Business Email by getting email that is branded with your company's domain name (ex. sales@mybrand.com). In addition, you also benefit from our advanced email technology that gives you the least latency and industry-best uptime, scalability and reliability. An email service being served out of the cloud also means no IT, hardware, software, bandwidth or people costs. And the best part is that you can add email accounts as and when your team grows.
Q. Which Email Clients and protocols are supported?
Q. How do I use my Webmail Interface?
Q. Which mobile phones can I access my mail from?
Q. What is your SPAM policy?
Q. Can I use Auto Responders?